Cienfuegos Dolphinarium, Cuba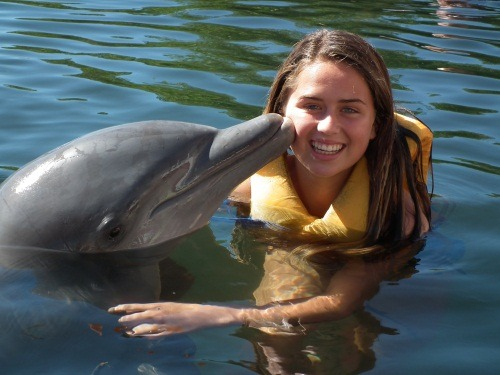 Taking into account the impossibility of being able to continue offering our usual services due to the emergency situation in the world, our team is making structural changes to our website that will momentarily affect its operation and correct display. You may contact us if you wish using our facebook page:
http://www.facebook.com/cubadivingnow/
or using our email: info@cubadivingnow.com.
We appreciate your understanding.
The Cubadivingnow team
Swimming with dolphins is a unique experience, and endures a lifetime in the memory of those who have enjoyed it. These charismatic and beautiful animals have a great intelligence and enjoy playing and interacting with humans.
Dolphins are admired and loved by people of all ages and there are even therapies applied to humans that use swimming with dolphins as a way to treat various medical disorders, due to the positive feelings and energy that these loving and friendly mammals spread.
This fascinating experience can be enjoyed by the whole family up at the Dolphinarium in Cienfuegos, Cuba, which has received the certificate of excellence in TripAdvisor and countless of positive feedbacks because of the quality of its service and the attractive of the experience.
Swimming with dolphins in Cienfuegos is a safe entertainment as it is done with carefully trained dolphins prepared for this activity under the supervision of their coaches.
How to reach Cienfuegos Dolphinarium
The dolphinarium is located about 17 km from the center of the city of Cienfuegos, leaving Rancho Luna beach, it will be easy to find it as there are signs indicating directions.
Address:Road to Pasacaballo Km. 17. Rancho Luna, Cienfuegos.
Activities and Schedule
The following services are provided:
Swimming with dolphins,
Show with dolphins,
Acrobatics with dolphins,
Photographic services,
Cafeteria and snacks.
The Dolphinarium is open every day from 9:30 am to 4 pm, except on Wednesday. It has two shows, one at 10 am and another at 2 pm.
Prices of the Dolphinarium
Swimming with dolphins
Adults
50 CUC
Children under 11 years
33 CUC
Show with dolphins
Adults
10 CUC
Children under 11 years
6 CUC
Photographic services
Printed Photo 8x10
10 CUC
CD with all the photos
40 CUC
Note: There are regulation that forbid the swimming with dolphins to pregnant and children smaller than 6 years.
How to Book in Cienfuegos Dolphinarium
To reserve in Dolphinarium you may fill out and to send the following form, it will be forwarded to the commercial of Delfinario who will contact you. Equally you can reserve through the telephone: (+53) 435 48120
It is advisable to book early especially during the high season when the demand rises. Dolphins must have rest periods in order not to overload them and protect them from stress.