Scuba Diving in Cuba
Taking into account the impossibility of being able to continue offering our usual services due to the emergency situation in the world, our team is making structural changes to our website that will momentarily affect its operation and correct display. You may contact us if you wish using our facebook page:
http://www.facebook.com/cubadivingnow/
or using our email: info@cubadivingnow.com.
We appreciate your understanding.
The Cubadivingnow team
We serve individual divers and small to medium sized groups in a personalized way. We have a professional team specialized in providing customized services and everything you might need diving lovers. Years of experience and our customers are our guarantee.
Scuba Diving
We offer solutions to over 30 dive sites chosen in Havana, Matanzas, Cienfuegos and Trinidad, some wrecks include historical value.
This service is valid for anyone wanting for a one-day immersion or comply with any one of our packages.
Divers may have experience or not, we fit your profile. Our offerings include all diving equipment. Read more »
Dive Initiations & Courses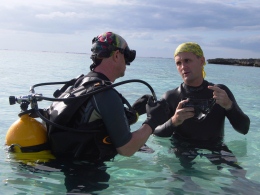 We initiations in an attractive and safe. These consist of a lecture, a practice very shallow (no more than 1.5 meters) and a first immersion between 5 and 8 meters deep, all in one morning, in which you will begin to enjoy the diving. If you decide to continue with the activity can opt for one of our courses and get an international certification.
We offer certification courses CMAS, SSI, ACUC and PADI. Our instructors, with lots of teaching experience, methodological and practical, will bring you fun and safe way to get your first diving certification or acquire advanced levels of expertise as divers. Read more »
Trips & Packages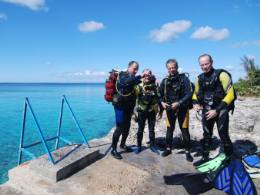 We prepare dynamic all inclusive diving packages that are attractive and economical, which combine diving and touring the country. These trips are ideal for divers, photographers and families who wish to know Cuba in an unforgettable way.
The packages are not rigid and can be customized according to the interests of participants. Read more »
Underwater Photography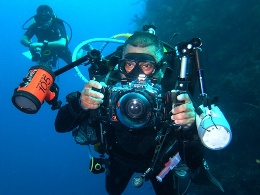 Renowned underwater photographers make up our team, we offer everything you need anyone wishing to
underwater photography in Cuba
. We provide both novice and demanding professionals.
Read more »
Offers for Professionals Divers
We also provide services to Instructors, Schools and Dive Centers so they can know Cuba and extend their workspace to our country. Read more »
Personalized service
Our staff, with over 20 years of experience and certified by various agencies (CMAS, SSI, ACUC and PADI), works with small groups.
– One instructor every 4 experienced divers.
– One instructor every 2 inexperienced or beginners divers.