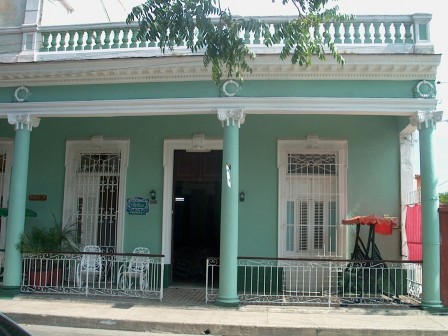 The Villa Teresa is a colonial house, of high tile roofs and wood. Their location transforms it into a special place, to few steps of the Hotel Jagua, of the famous sculptress's Statue Rita Longa perpetuating the image of the India Guanaroca and the Beautiful Palacio of Valley, the place cannot be better… near to Beaches in the bay, pools and night centers and of recreation.
The view to the sea and their constant and pleasant breeze is something to stand out of the place, together to the magnificent view from its terrace that invites you to stay.
It possesses two rooms to rent acclimatized, cold and hot water, mini bar, breakfast, connection services to near internet and many others.
Facilities:
24 Hour Reception
Air-conditioned
Hot water
Private bathroom
Terrace or balcony
Living room
Phone
Breakfast
Food Service
TV in the room
TV
DVD
Refrigerator or minibar
110/220 volts
Beach
Pool
Sea view
Wardrobe
Laundry
Hairdryer
Transportation Management
Management of excursions
Change Currency
Garage or parking
Nearby places: Hotel Jagua, The Tip, Statue India Guanaroca, Palacio of Valley, Club Cienfuegos, Park of the Trips, Marina Marlins, Palacio Blue, Piers, Cafeterias and Restaurants.
Address: 0 Avenue Nr.3502, between 35 and 37 Streets, Punta Gorda, Cienfuegos City, Cuba.

Municipality: Cienfuegos. Province: Cienfuegos
Price room / night:
Low Season: 30 USD. High Season: 35 USD.
Note: High Season: July 1th to August 31 & December 1th to April 30. Low Season May 1th to June 30 & September 1th to November 30.