NOTICE:
At this time this house is not offering lodging services. We suggest you check other accommodations in the same area:
Trinidad-La Boca
.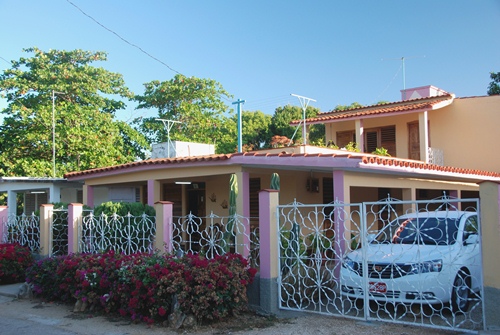 Nena and Ernesto´s house is located 100 meters away from the beach in Playa la Boca in Trinidad. It is one of the best options for those who visit the Trinidad area and want lodging near the sea and away from the activity of the city.
It has 3 comfortable rooms with private bathrooms. 2 of them are on the top floor and although they are not acclimatized, they are extremely fresh and ventilated. The room on the ground floor is acclimatized.
The whole house is surrounded by terraces and balconies with tropical plants in both floors which are ideal for reading, sunbathing or just enjoying the peace and quiet.
The gastronomic service is excellent and in our opinion the best in the area. The owners Nena and Ernesto are an elderly couple characterized by their fondness, affection and helpfulness. All this will make you feel like family and value this lodging option as excellent, recommended to all those travelers who enjoy a good table, the tranquility and the hospitality.
Facilities:
Airport Pickup
24 Hour Reception
Air-conditioned
Hot water
Private bathroom
Terrace or balcony
Phone
Breakfast
Food Service
TV
Beach
Wardrobe
Laundry
Hairdryer
Massage
Transportation Management
Management of excursions
Change Currency
Garage or parking
Courses
Nearby places: Ciudad Trinidad, playa Ancón, Topes de Collantes, Valle los Ingenios, Manaca Iznaga, Parques naturales El Cubano y El Nicho, Casilda
Address: Calle G # 85 e/n Avenida del Mar y Avenida del Sol, Playa La Boca, Trinidad.

Municipality: Trinidad. Province: Sancti Spiritus
Price room / night:
Low Season: 25 USD. High Season: 30 USD.
Note: High Season: July 1th to August 31 & December 1th to April 30. Low Season May 1th to June 30 & September 1th to November 30.
The room on the top floor always costs $ 30 per night.