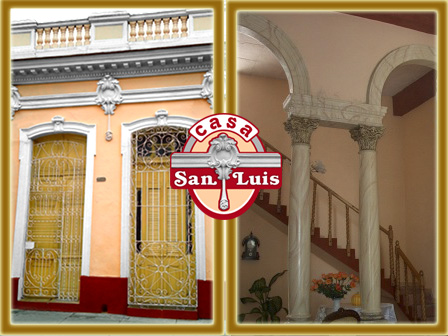 The "San Luis" House is located in the heart of the Historical Center of Cienfuegos, declared by the Humanity's Unesco Cultural Patrimony.
Their elegant facade run in block, without portal, their interior arches that toast of group with their high roof a pleasant fresh climate in the burning summer, characterize it.
It is a comfortable place located to half block of the Park Martí and of historical and representative constructions of this city like the Theater Tomás Terry, the Cathedral and the Palacio Ferrer. The house has 2 rooms for rent.
Their proximity to the Park Martí, an area that offers service of WiFi in the city, makes possible that to alone some steps can have this connection.
The house has two rooms for rent and offers a specialized service having an Instructor of Diving (Ignacio Brave Villanueva) of the Beach Ancón in Trinidad. You will be able to coordinate courses or initiation classes in this specialty through the owners.
Facilities:
24 Hour Reception
Air-conditioned
Hot water
Private bathroom
Terrace or balcony
Living room
Phone
Breakfast
Food Service
TV in the room
TV
DVD
Refrigerator or minibar
110/220 volts
Wardrobe
Laundry
Hairdryer
Transportation Management
Management of excursions
Change Currency
Nearby places: Martí Park, "Tomás Terry" Theater, Terry Caffeteria, Cultural Center Benny Moré, Ferrer Palace, San Lorenzo School, Boullevard, Muelle Real, Shoping centers, Habano´s House, Provincial Museum, Cathedral Church, City hall bulding, Local Artisans offert, Palatino Bar, Prado.
Address: 27 Street Nr.5606 between 56 and 58 Avenue, Historic Center of Cienfuegos, Cuba.

Province: Cienfuegos
Price room / night:
Low Season: 25 USD. High Season: 30 USD.
Note: High Season: July 1th to August 31 & December 1th to April 30. Low Season May 1th to June 30 & September 1th to November 30.