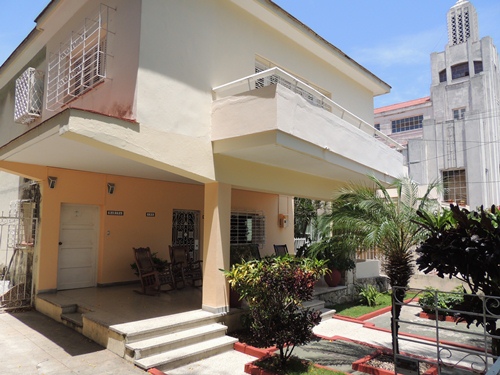 Marina´s House is a modern and roomy two-bedroom apartment, ready for rent that is only 150 meters away from Habana Libre Hotel (former Havana Hilton) and the corner of 23 and L, in the heart of Havana.
It is located on top of a beautiful two-story house built in the 50´s in K Street between 25 and 27. Marina´s House has all the comforts: private bathroom and minibar. Each room has two beds, a king size and a personal one for a third person or a child.
The house is attended by Marina and her daughter in law Lena who provide a careful service, exemplified by the excellence of their breakfasts, which are elaborated with such quality that become an unforgettable experience for all those who enjoy them.
The location is central, safe, neat and with a good service. Countless restaurants, cultural and touristic centers, bars and cafeterias surround the area.
Facilities:
24 Hour Reception
Air-conditioned
Hot water
Private bathroom
Independent entrace
Terrace or balcony
Living room
Phone
Breakfast
Food Service
TV in the room
Safety box
Refrigerator or minibar
110/220 volts
Wardrobe
Laundry
Transportation Management
Management of excursions
Garage or parking
Languages the owners dominate:
English
.
Nearby places: Hotel Habana Libre, Coopelia, Universidad de La Habana, Teatro el Sótano Cine Yara, La Rampa, Hotel Nacional, Hotel Colina, Pabellón Cuba
Address: Calle K # 508 altos e/n 25 y 27 Vedado. Plaza . La Habana. Cuba.

Municipality: Revolution Square. Province: Havana
Price room / night:
25 USD
.