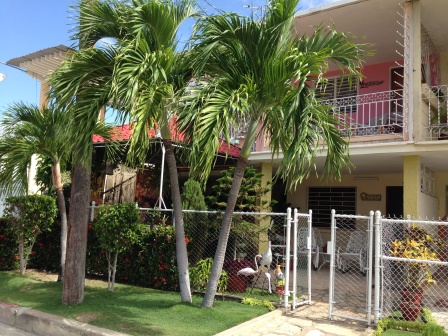 Located in the best area of Punta Gorda, surrounded of forced tourist places, the house offers to the visitor two rooms with independent, very pleasant entrance and with all the comforts, a small garden and a portal with bar and resting place.
The proximity of the sea to few meters, of the Marina Marlins, of restaurants, recreational places and many others that you will adore to visit.
Facilities:
24 Hour Reception
Air-conditioned
Hot water
Private bathroom
Independent entrace
Terrace or balcony
Phone
Breakfast
Food Service
TV in the room
TV
DVD
Refrigerator or minibar
110/220 volts
Sea view
Wardrobe
Laundry
Hairdryer
Massage
Internet Access
Transportation Management
Management of excursions
Garage or parking
The owner negotiates collections separated to the airport previous coordination and payment. The house has beach and near pools, as well as you spread for change of currencies. She offers a total security as much in the house as in the parking.
Nearby places: Hotel Jagua, The Tip, Statue India Guanaroca, Palacio of Valley, Club Cienfuegos, Park of the Trips, Marina Marlins, Palacio Blue, Piers, Cafeterias and Restaurants.
Address: 6 Avenue Nr.3509, among the streets 35 and 37, Punta Gorda, Cienfuegos City, Cuba.

Municipality: Cienfuegos. Province: Cienfuegos
Price room / night:
35 USD
.