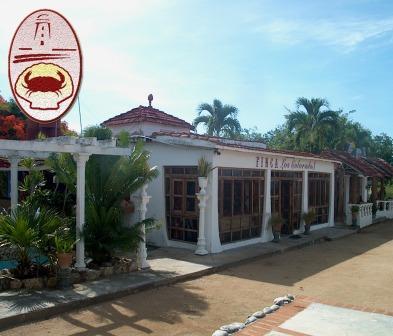 Located to 18 kms of the city of Cienfuegos, in the highway that skirts the south, fair coast almost to the entrance of the bay of Jagua and in front of the immense blue sea, the Property The Colorado possess a house built in 1941.
Place of inspiration of the Barbarian of the Rhythm… Benny Lived that would say in its song that gives fame to the city: "… there for Pasacaballos bound for Ranch Luna", the property is a place bohemian, frequented big musicians, poets, painters and Cuban intellectuals.
The owner, José Ignacio Piñeiro (José) it is Maitre´d International Hotel, with experience in France, Spain, Panama, Nicaragua and United States. He/she has received the Prize of Excellency Gourmet for Spain in the Palacio of the Conventions and the Provincial Prize of the Gastronomy. With their abilities, it tries to please the likes of their clients, always in the measure of the possibilities of the existent supplies in the country.
Founder of the group Houses Matters in Cienfuregos, takes 26 years in the field and Cuba has been working in the reestablishment of the relationships – E.U. with the group People to People.
The house is classified in the group AirBNB, select group of international houses, is in the Guide TravelMoon, in the Nationa Geographic Magazine,en the Russian Guides, Belgium, Germany, Cicling in Cuba of Barbara Smith and others.
Constituted by several areas common of esparcimiento, very pleasant and very designed for the relax and esparcimiento, he/she has a central area very well with 3 rooms equipped, acclimatized, it dilutes cold and hot, television and refrigerated that share a bathroom. It also possesses an apartment with room, two rooms with equals conditions and a shared bathroom and he/she cooks dining room, ideal for groups, although the independent rooms are also reserved.
Facilities:
Airport Pickup
24 Hour Reception
Air-conditioned
Hot water
Independent entrace
Terrace or balcony
Living room
Phone
Breakfast
Food Service
TV in the room
TV
DVD
Equipped kitchen
Refrigerator or minibar
110/220 volts
Beach
Pool
Sea view
Wardrobe
Laundry
Hairdryer
Massage
Transportation Management
Management of excursions
Change Currency
Garage or parking
Courses
Courses of Dance are imparted, Folklore Culture Yoruba with their dances, Spanish Language of manners, English, and Francés. Pick up at the airport is offered prior coordination with the owner.
Nearby places: Lighthouse Las Coloradas, Hotel Pasacaballo, Beach Rancho Luna, Delfinario, Lagoon Guanaroca, Limit of Flamenco Guanaroca (Area of Reservation), Center of Diving Marina Marlin.
Address: Highway Pasacaballos, 18 km. Rancho Luna Beach, Cienfuegos, Cuba.

Municipality: Cienfuegos. Province: Cienfuegos
Price room / night:
Low Season: 30 USD. High Season: 35 USD.
Note: High Season: July 1th to August 31 & December 1th to April 30. Low Season May 1th to June 30 & September 1th to November 30.
(Español) La oferta de comidas consiste en: Desayuno (5.00 €), Almuerzos(entre 10.00 y 15.00 €) y Cenas (entre 12.00 y 15.00 €) [: en] The food offer consists of: Breakfast (5.00 €), Lunches (between 10.00 and 15.00 €) and Dinners (between 12.00 and 15.00 €)