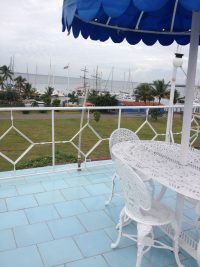 The Inn is located in a central place in Punta Gorda, in front of the Park of the Sculptures and to the Marina Marlins, the view from its terraces is exceptional.
With several resting places and view and two rooms with all the comforts, the owners Sr.Matos and Sra.Neisy, wait for you to make you´re stay something unforgettable.
Facilities:
24 Hour Reception
Air-conditioned
Hot water
Private bathroom
Independent entrace
Terrace or balcony
Living room
Phone
Breakfast
Food Service
TV in the room
TV
DVD
Safety box
Refrigerator or minibar
110/220 volts
Sea view
Wardrobe
Laundry
Hairdryer
Massage
Internet Access
Transportation Management
Management of excursions
Change Currency
Garage or parking
Nearby places: Hotel Jagua, The Tip, Statue India Guanaroca, Palacio of Valley, Club Cienfuegos, Park of the Trips, Marina Marlins, Palacio Blue, Piers, Cafeterias and Restaurants.
Address: 6 Avenue Nr.3509A (Upstairs), between 35 and 37 Streets, Punta Gorda, Cienfuegos City, Cuba.

Municipality: Cienfuegos. Province: Cienfuegos
Price room / night:
Low Season: 30 CUC. High Season: 35 CUC.
Note: High Season: July 1th to August 31 & December 1th to April 30. Low Season May 1th to June 30 & September 1th to November 30.