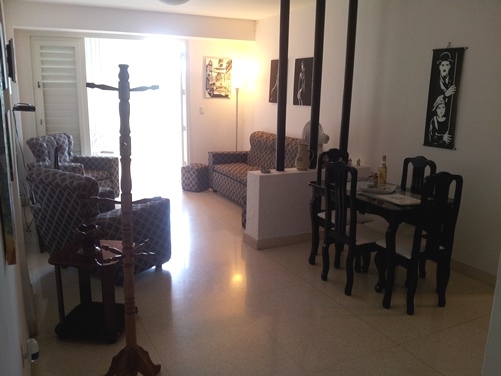 Completely independent apartment with balcony overlooking 23rd street in Vedado, Havana; 300 meters from the well known Habana Libre Hotel, Coppelia and La Rampa and close to a lot of bars, restaurants, cafes, nightclubs and other attractions of one of the Most charming neighborhoods in Havana.
The rent of the house, in addition to its pleasant balcony from where you can contemplate the habanera life, includes living room, kitchen and 2 bedrooms with air conditioning and shared bathroom. The apartment is completely independent and you can request for breakfast in the mornings. As a courtesy welcome, the owners will give you a bottle of Cuban rum.
Facilities:
Air-conditioned
Hot water
Independent entrace
Terrace or balcony
Living room
Breakfast
TV
Equipped kitchen
Refrigerator or minibar
Wardrobe
Massage
Internet Access
Transportation Management
Management of excursions
Nearby places: Hotel Habana Libre, Coppelia, La Rampa, Universidad de La Habana, Hotel Colina
Address: Calle I # 502 entre 23 y 25, 2do Piso apto 23. Vedado. La Habana.

Municipality: Revolution Square. Province: Havana
Price room / night:
40 USD
. The rental price of the entire apartment is 80 € (40 per bedroom). If you want to rent only one room the price of this would be 50 € per day and you will have the whole apartment.