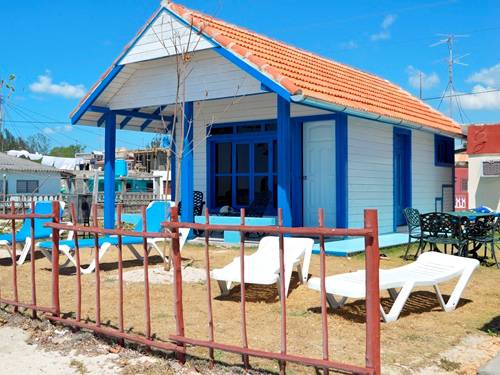 Charming chalet style house, completely independent, located in the same beach of Caletón. It has a room with private bathroom and air conditioning, living room and kitchenette.
The accommodation has windows, a porch and patio from which you have a beautiful view of the beach and the Bay of Pigs. Its owners, Tony and Osmara, also manage the B&B El Varadero, located on the same beach, which allows them to accommodate groups and families.
Facilities:
Airport Pickup
24 Hour Reception
Air-conditioned
Hot water
Private bathroom
Independent entrace
Terrace or balcony
Living room
Breakfast
Food Service
TV in the room
Safety box
Refrigerator or minibar
110/220 volts
Beach
Sea view
Wardrobe
Laundry
Hairdryer
Massage
Transportation Management
Change Currency
Garage or parking
Courses
Languages the owners dominate:
English
.
Nearby places: Playa Larga, Criadero de cocodrilos, Guamá, Cueva de los Peces, Punta Perdiz, Las Salinas, Playa Girón
Price room / night:
50 USD
.