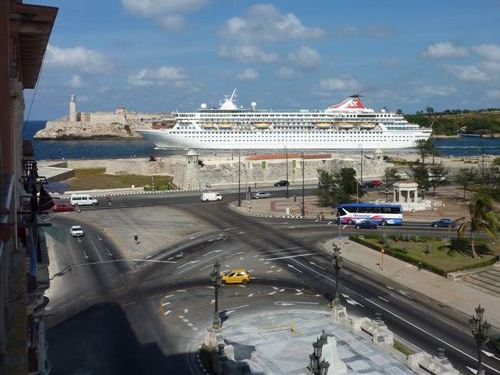 An apartment with a sea sight, located in the 5th floor of the attractive Prado # 20 Building just at the beginning of the famous Prado Promenade in San Lazaro St. and nearby the famous Havana's Malecón.
Casa Urquiza is an apartment that rents 2 triplex rooms with in- suit bathrooms, great comfort, cleanliness and an attractive decoration.
This apartment constantly welcomes the sea breeze through its large windows. Its roomy balcony has one of the best views in Havana overlooking the bay, the Punta, Morro and Cabaña Fortresses, the Promenade and the nearby Old Havana.
Casa Urquiza is attended by Enrique y Maritza, the latter is the sister of the owner. They provide a very good service for breakfast and dinners at guests´s request and are always willing to kindly provide help and pieces of advice to any of your needs. The building has elevator and a doorman.
This apartment is perfect for your stays in Havana as much for its privileged location as for its commodities and services.
Facilities:
Air-conditioned
Hot water
Private bathroom
Independent entrace
Terrace or balcony
Living room
Equipped kitchen
Refrigerator or minibar
110/220 volts
Sea view
Wardrobe
Nearby places: Entrance of Havana´s Bay, Havana´s Seawall/ Havana´s Malecón, Prado Promenade, Historical Center of the city, La Punta Fortress, La Fuerza Fortress, Embassy of Spain, Revolution Museum, Bacardi Building, Sevilla Hotel, Central Park.
Address: Prado # 20. apto 5-A. e/ San Lázaro y Carcel. Centro Habana.

Municipality: Centro Habana. Province: Havana
Price room / night:
50 USD
.