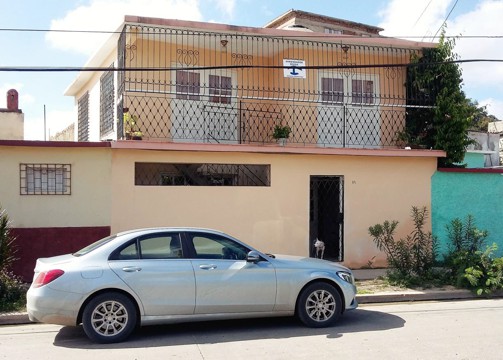 Independent room for rent in private house with bathroom and balcony. The accommodation is located a few blocks from the bus terminal of the city of Holguin and the center of the city, in front of the Parque de los Tiempos (Park of the Times), designed by the plastic artist Cosme Proenza.
The bedroom, located on the second floor of the house with access to the balcony, has a double bed and space to place another personal bed if required; It also has air conditioning, refrigerator, television and large bathroom with hot water, among other amenities; also at your disposal is the hall of the ground floor. From the house it is reached the WIFI signal of the nearly park what facilitates that the guests can have access to the Internet from the bedroom.
Its owners, Aimé and Victor – whose paintings decorate the house – are a very helpful young couple living on the lower floor of the house and will be at your disposal for any help or advice. Very close to the house is the restaurant Delicias Cubanas and Café Sofía, two of the best gastronomic options in the city of Holguin.
Facilities:
Air-conditioned
Hot water
Private bathroom
Independent entrace
Terrace or balcony
Living room
Breakfast
Food Service
Refrigerator or minibar
Laundry
Hairdryer
Internet Access
Transportation Management
Management of excursions
Nearby places: Parque los Tiempos, Hospital Universitario Vladimir Ilich Lenin, Terminal de Omnibus Interprovincial, Iglesia de Dios
Address: Avenida de los Álamos 1A entre Carbó y Constitución, Holguín..

Price room / night:
Low Season: 25 USD. High Season: 30 USD.
Note: High Season: July 1th to August 31 & December 1th to April 30. Low Season May 1th to June 30 & September 1th to November 30.