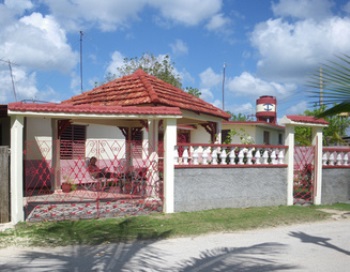 Casa Ernesto rents 4 rooms that can be considered small independent apartments; each with air conditioning, private bathroom, minibar and other amenities that ensure very good comfort.
This private house (casa particular) is located next to the sea and has a nice terrace from where you can enjoy an interesting view of the Bay of Pigs (Bahia de Cochinos). Ernesto and his wife Yodaine have several years of experience providing tourist services, are very attentive and offer excellent breakfasts and dinners mainly based on seafood, highly prized for their abundance and exquisite taste.
Undoubtedly it is a very good option for those who wish to spend a few days of vacation in Playa Larga, next to the sea in a relaxed atmosphere with your partner, family or a group of friends.
Facilities:
Air-conditioned
Hot water
Private bathroom
Independent entrace
Terrace or balcony
Living room
Breakfast
Food Service
TV
Refrigerator or minibar
Beach
Sea view
Wardrobe
Transportation Management
Management of excursions
Garage or parking
Nearby places: Playa Larga, Playa Girón, Criadero de cocodrilos, Guamá, Cueva de los Peces, Punta Perdiz, Las Salinas
Price room / night:
30 USD
. If the room is occupied by 3+ people the price of the room increases by 5.00 €.