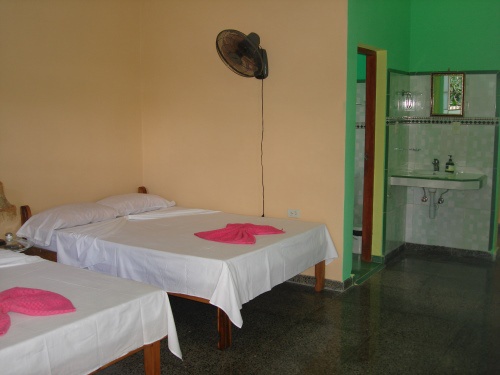 La Casa de Eliza in Viñales is located in the center of the village, in the street Rafael Trejo, a few meters from the main square, the church, the bus station, shops and travel offices.
The house rent 3 rooms with the required comforts for a pleasant stay.
Facilities:
24 Hour Reception
Air-conditioned
Hot water
Private bathroom
Independent entrace
Terrace or balcony
Phone
Breakfast
Food Service
Safety box
Refrigerator or minibar
110/220 volts
Wardrobe
Laundry
Hairdryer
Massage
Transportation Management
Management of excursions
Change Currency
Garage or parking
Nearby places: Iglesia, policlínico, Casa de Cambio CADECA, Estación de Omnibus
Address: Calle Rafael Trejo # 37. Viñales. Pinar del Río.

Municipality: Viñales. Province: Pinar del Rio
Price room / night:
30 USD
. The house rent 3 rooms. One triple room is rented for 35 € per night in high season and 30 € in low season. The other ones are 30 € per night.