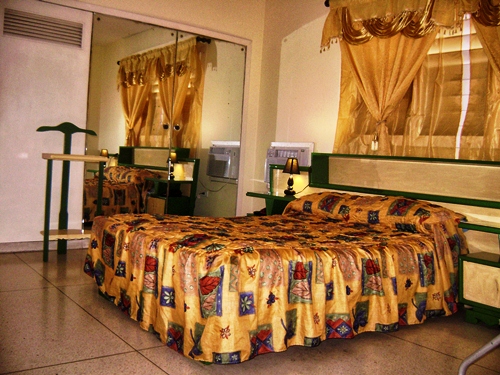 Casa Daylin is an independent house in the is located in the exclusive allotment Miramar located in the Municipality Playa, very near to Comodoro Hotel, Meliá Habana Hotel, Miramar Trade Center and Hemingway Marina. It is to some 25 meters of the Fifth Avenue, the main artery of Playa, considered one of the most beautiful from Cuba and that in few minutes it brings near to any place that you want to visit in the Cuban capital. The Church Jesus of Miramar, the biggest Catholic temple in the country, is another place of very near interest to this accommodation.
Casa Daylin is an independent house with 2 acclimatized rooms, roomy and comfortable, a wide bathroom, living room, library with access to the balcony, a pleasant and fresh terrace and an equipped kitchen, everything with great comfort and cleaning, a lot of privacy and security. It also possesses garage for two vehicles. The house possesses all the necessary comforts to make family life, even, friends' groups or university students and it is possible to have supplementary beds. It is possible to be produced as independent rooms.
His proprietor had 13 years of experience offering services to travelers with very good treatment and services of quality.
Facilities:
Airport Pickup
24 Hour Reception
Air-conditioned
Hot water
Private bathroom
Independent entrace
Terrace or balcony
Living room
Phone
Breakfast
Food Service
Equipped kitchen
Refrigerator or minibar
110/220 volts
Wardrobe
Laundry
Massage
Transportation Management
Management of excursions
Garage or parking
Languages the owners dominate:
English
.
Nearby places: Hotel Comodoro, Hotel Meliá Habana a 100m, Centro de Negocios Miramar a 200m, Hotel Tritón-Neptuno, Hotel H10 Panorama, Hotel Miramar Occidental, Hotel Quinta Avenida, Acuario Nacional de Cuba, Club Habana, Marina Hemingway
Address: Calle 3raA #8609 entre 86 y 88. Miramar, Playa, la Habana.

Price room / night:
40 USD
.