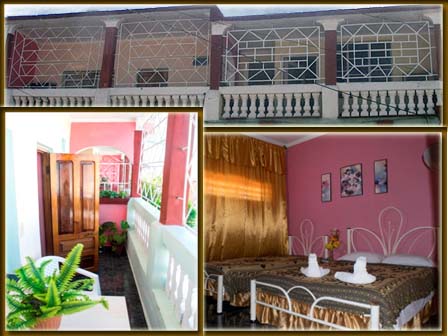 The Inn is located in the Historical and Patrimonial Center Of the City from Cienfuegos to a block of the Park José Martí, nucleus fundacional of the city and near to constructions of great beauty and significance. It possesses two rooms to rent, each one with private bathroom, with cold and hot water, climatized, with television, refrigerator, independent of the house, with balcony toward the street.
The owners offers service to Room, breakfast, dinner, connection wifi to internet, currency change and it guides – chauffeur for trips.
You will be able to enjoy a Cuban family that will make it feel one more and it will welcome him with affection and security.
Facilities:
24 Hour Reception
Air-conditioned
Hot water
Private bathroom
Independent entrace
Terrace or balcony
Living room
Phone
Breakfast
Food Service
TV in the room
TV
DVD
Refrigerator or minibar
110/220 volts
Wardrobe
Laundry
Hairdryer
Internet Access
Transportation Management
Management of excursions
Change Currency
It offers services of Guide and chauffeur for trips.
Nearby places: Martí Park, "Tomás Terry" Theater, Terry Caffeteria, Cultural Center Benny Moré, Ferrer Palace, San Lorenzo School, Boullevard, Muelle Real, Shoping centers, Habano´s House, Provincial Museum, Cathedral Church, City hall bulding, Local Artisans offert, Palatino Bar, Prado.
Address: 23 Street Nr. 5412 between 54 and 56 Avenue, Historic Center of Cienfuegos City, Cuba.

Municipality: Cienfuegos. Province: Cienfuegos
Price room / night:
25 USD
.