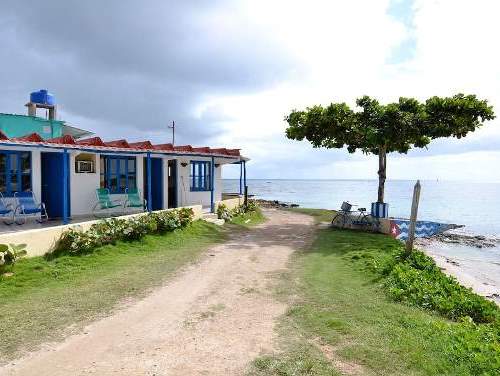 B&B El Varadero is a beautiful house by the sea in Caletón, Playa Larga. It rents 2 rooms air-conditioned with independent bathroom with an excellent view to the beach and the Bay of Pigs (Bahía de Cochinos). The accommodation is surrounded by a pleasant portal where you can have breakfast, dinner or rest accompanied by the sea breeze.
The owners, Tony and Osmara, have great experience in the tourist sector and communicate very well in English. They also manage another room a few meters on the same beach: Chalet La Casita; it allows them to accommodate groups or families. B&B El Varadero has very good references in Tripadvisor
Facilities:
Airport Pickup
24 Hour Reception
Air-conditioned
Hot water
Private bathroom
Independent entrace
Terrace or balcony
Living room
Breakfast
Food Service
Safety box
Refrigerator or minibar
110/220 volts
Beach
Sea view
Wardrobe
Laundry
Hairdryer
Massage
Transportation Management
Management of excursions
Change Currency
Garage or parking
Languages the owners dominate:
English
.
Nearby places: Playa Larga, Criadero de cocodrilos, Guamá, Cueva de los Peces, Punta Perdiz, Las Salinas, Playa Girón
Price room / night:
40 USD
.