Scuba Dive in Cuba
Taking into account the impossibility of being able to continue offering our usual services due to the emergency situation in the world, our team is making structural changes to our website that will momentarily affect its operation and correct display. You may contact us if you wish using our facebook page:
http://www.facebook.com/cubadivingnow/
or using our email: info@cubadivingnow.com.
We appreciate your understanding.
The Cubadivingnow team
The island of Cuba is the main and largest island of the Cuban archipelago, has about 5700 kilometers of coastline, over 200 bays and 289 beaches. In this archipelago belong also the Isle of Youth and other 4195 cays and islets.
The climate is tropical warm and seasonally humid, cooled by winds and sea breezes, which generally offer a good time, with an average annual temperature of 25 degrees Celsius.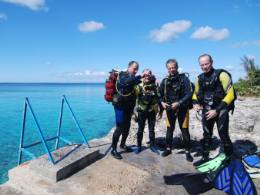 All inclusive

Diving trips
Travel options combining diving and tourism, ideal for divers, photographers, families or groups of friends.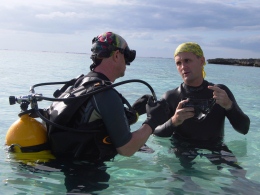 Dive Initiations & courses
We perform initiations attractive and safe manner. We also offer courses with certifications SSI, CMAS, ACUC and PADI.
Scuba Diving
We offer trips to more than 30 dive sites chosen in Havana, Matanzas, Cienfuegos and Trinidad.
The tide and current system is mild on both coasts and water transparency is optimal, with an average visibility of 30 meters. The average water temperature is around 26 º C, so you can dive in perfectly with lycra suits 3mm summer and in winter.
The characteristics and the topography of the Cuban shelf make their funds one of the most attractive in the Caribbean region.
Over 98% of the 3 200 km of marine shelf edge is surrounded by coral reefs they inhabit countless species of crustaceans and molluscs, over 700 fish, 300 of sponges and a greater number of starfish, sea cucumbers and hedgehogs, as well as 5 species of sea turtles or mammals such as dolphins and manatees enigmatic, endangered sirenian.
All these conditions are a real privilege for scuba divers and recreational diving. For this reason the World Tourism Organization (WTO) has brought to Cuba between major dive destinations in the world.
Cuba has 10 International and 39 International Centers Marine Diving, with more than 200 instructors (certified diving schools recognized the world), 66 vessels specially equipped for the practice and more than 1,000 dive sites in use.
All these numbers are increasing as a result of new investments made with the aspiration of providing excellent services to over 100,000 divers annually.
In Cuba there is a medical emergency system designed to ensure the safety of the divers, with a national network of hospital hyperbaric chambers, extra hospital. The island is a regional and international reference in research and application of hyperbaric medicine.
Among the major destinations of Cuba diving are:
María la Gorda, Pinar del Rio;
South Coast of La Isla de la Juventud and Cayo Largo del Sur.
North of Havana
Zapata Peninsula, in the area between Playa Larga and Playa Giron. It has an impressive vertical wall just 100 meters from the coast, excellent to do wall dives, and a major underwater cave system, ideal for cave diving.
Varadero and artificial underwater park.
Gardens of the Queen (Jardines de la Reina), with one of the most healthy marine ecosystems on the planet.
Santa Lucia in Camagüey, protected by a coral formation imposing considered the second worldwide, It is one of the few places in the world where you can dive with bull sharks and enjoy a magnificent underwater show.
Coast of Santiago de Cuba, with major wrecks wartime Cuban Hispanic American.
However, practically excellent dives can be performed anywhere in the country.
Annually held two major international underwater photography competitions, the IMASUB, in Maria la Gorda, and FOTOSUB, which is traditionally performed on the Isla de la Juventud, and from 2013 has its headquarters Cayo Largo del Sur.
In April 2013 Cayo Largo del Sur was selected by CMAS (World Underwater Federation) for implementing the World Championships that year that the Cuban team won fourth place by countries competing against teams from 18 other countries with long history in these competitions.
All these conditions, combined with the hospitality of the Cuban people and the country's security, guarantee you the ability to make excellents trips to Cuba.
If you want to know more about the island visit Cuba Information section or visit our Underwater Photo Gallery.
If you have dived in Cuba with Cubadivingnow and you want to share your experiences about the visited diving spots, we invite you to let us any comment here. Your opinions will be welcoming. Thank you for your collaboration.